Quick & Dirty:
Non-Kindle users - DRM FREE! Can easily be converted!

Very enjoyable book, not an "edge of your seat" thriller but still wonderful.

I was fully entranced by this story, it will be difficult to find people who don't like it...I've provided a list below of who I think should stay away...it's pretty short.
Long & Wordy:
Fair warning: this is a
book review
, where I will
talk about the book
. That means you may find some of this could be classified as a "
spoiler
". Proceed at your own risk.
FIRST OF ALL
This book was a refreshing way to end a long week at work. The first few pages tripped me up, three words of advice JUST KEEP READING, you can thank me later. This story was filled with characters you could relate to, some strange but well handled moments, and plenty of fun.
The first few pages of this book actually made me put the book down.
This is what is going on:
They are writing a computer program, basically it's a super search engine that will bounce around the internet looking at YOU the user to see if you're a witch. IF you're a witch THEN it's supposed to pull you into a chat room...A CHAT ROOM not websites. Later on they use this same chat room feature so I want to make sure you understand they are typing, not standing around inside a website, that only happens on the first page of the book. And yeah, I know chat rooms aren't that modern. Deal.
The story then bounces to a real estate agent in a completely different part of the country (which is why the internet is so awesome, and key to the story) The story does bounce around a little between characters and until you know them all it seems a bit confusing but I promise, it cleans itself up quick and is worth the effort.
This book won't be for everyone though, I suggest you DON'T READ IT IF:
1. You need a story where the plot revolves around good vs evil and the apocalypse just around the corner.
2. You're from a town that still holds regular witch hunts and you approve.
3. You're fighting an addiction to Ben & Jerry's.
Does this picture make you run for your freezer?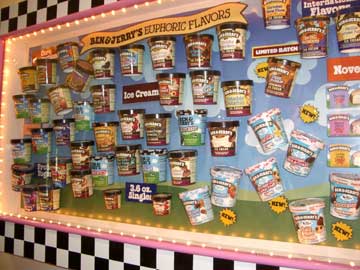 This book won't have you on the edge of your seat, but laying back and enjoying yourself. And probably wanting to catch up with your family. Really, I just want my family to be that close...then again...
Just go read it: Amazon
5/5
***I received this book as an ARC. This in no way effected my review.***